Posts for: October, 2014
By Fox Dental, Ltd.
October 24, 2014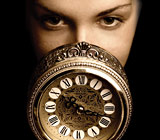 As the Baby Boomer generation moves into its 60s, more and more of us are concerned with looking younger. We do it with vitamins, diet, exercise, makeup, cosmetic surgery, and yes, even with cosmetic dentistry.
In recent years we have learned a lot about how aging affects the soft tissues and bones of your face. This has led to an approach to orthodontics that considers not only the teeth and jaws, but also the continuing growth of the bones and soft tissues of the face.
We used to think that growth stopped when people reached their late teens or early 20s. However, recent studies have shown that some kinds of growth continue throughout a person's lifetime. Your bones and facial structures change as much between the ages of 25 and 42 as they do between 18 and 25.
As you age your facial profile flattens, your nose becomes more prominent, the lower part of your face becomes shorter, and your lips become thinner. By studying these changes we have learned to consider them when planning orthodontic treatment. Modern orthodontics treats the entire face, not just the teeth.
The science of orthodontics is dedicated to slowly moving the teeth within the jaws to better functional and aesthetic positions, using standard braces or clear aligners. Sometimes the upper and lower jaws are so far out of alignment that more extreme treatment is needed. In such cases orthognathic (from ortho, meaning straight and gnathos, meaning jaw) surgery may be required to achieve the best results. Orthognathic surgery was once considered a drastic procedure, but it has become easier to manage during and following surgery and is now considered a more normal treatment option, like a facelift. Since the nose becomes more prominent as part of the aging process, the surgery is sometimes combined with rhinoplasty, or reshaping of the nose.
This new approach to orthodontics and cosmetic dentistry — taking into consideration the normal changes that occur as a person's face ages throughout life — requires teamwork among a general dentist, an orthodontist, and an oral surgeon. The results are a long-lasting change that holds back the clock on aging.
Contact us today to schedule an appointment to discuss your questions about cosmetic dentistry. You can also learn more by reading the Dear Doctor magazine article "Understanding Aging Makes Beauty Timeless."
By Fox Dental, Ltd.
October 09, 2014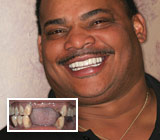 This is the story of a well-known man, fearless in most respects, who was afraid of the dentist. Even though his fears had resulted in neglect and serious damage to his teeth, modern dentistry and a talented dental team were able to restore his smile to health. If you share this fear, his story may inspire you to take action.
We're talking about William Perry, former defensive lineman and fullback for the Chicago Bears. Here is a man who could fearlessly face a football squad — but not a visit to the dentist. Nicknamed "The Refrigerator" for his 380-pound massive frame, Perry played for ten years in the NFL before retiring in 1994. Since retiring he founded and operated a construction company in South Carolina in addition to making celebrity appearances.
With his celebrity in mind, a team composed of a talented restorative dentist, implant surgeon, and lab technician agreed to give "The Fridge" a makeover. After discussing modern technology and virtually pain-free dentistry with him, they managed to overcome Perry's fears. "I had been in constant pain for many years and I neglected myself, not having had any dental care for over 20 years, not even emergency care. Unfortunately, as I grew older my teeth started to get loose," Perry told an interviewer. He had lost many teeth and became known for his gap-toothed smile.
Perry had severe gum disease and many of his remaining teeth were loose. In the past his only option would have been a full set of dentures. But his new dental team was able to place dental implants (permanent tooth replacements) supporting fixed bridges. In most cases dental bridges are attached to healthy teeth, but in Perry's case the implants served as anchors for the bridges. They also stabilized his jawbone, which would otherwise "resorb" or melt away after his teeth were lost. This is important because it helps preserve the contours of his face.
After careful planning "The Fridge" had eight dental implants placed in his upper jaw and seven in his lower. The final bridgework was completed four months later. It turned out that even though the gap between his teeth had become his trademark, "the Fridge" never really liked it. He was thrilled with his new smile.
Even if you have some fears, don't hesitate to follow Perry's example and make an appointment with us for a consultation about dental implants, smile makeovers, or bridgework. For more information about William "The Refrigerator" Perry, see the Dear Doctor magazine article "How Immediate Implants Saved 'Refrigerator' Perry's Smile."